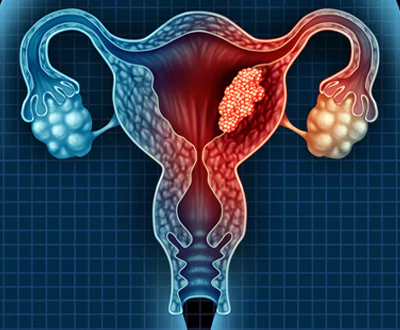 At Kshirsagar Cancer Clinic, we offer an integrated approach to the diagnosis and surgical treatment of Gynecologic Oncology Cancer surgery. These are include cervical cancer also ovarian cancer (including the fallopian tube and peritoneum), pelvic mass, uterine cancer, vaginal cancer and vulvar cancer of the female reproductive system. Therefore Women's Gynecologic Cancer Surgery in pcmc but also the Program offers the latest surgical treatment options for gynecological tumors. 
 The rise in India, estimated at about 200,000 per year, accounting for about 30% of all gynecologic cancer treatment cancers in women in India also lso Ovarian and cervical cancers are the most common  affecting women worldwide and in India.
gynecologic cancer treatment in women begins to spread in the pelvic area, therefor lying in the lower abdomen and between the hip bones. Most women are affected by cervical cancer, ovarian cancer and gynecological uterine cancer (endometrium). also less common gynecological tumors include vulvar, vaginal, gestational trophoblastic tumors, and fallopian tubes.
Each gynecologic cancer treatment in pcmc is unique but this  has different signs and symptoms, different risk factors (things that can increase your chances of getting the disease) and different prevention methods. All those women are at risk for gynecological cancers and this risk increases with age. Therefore If  Gynecologic Oncology in pune the best hospital for tumors are detected early, also it treatment is most effective.
If you're diagnosed with cancer, your worries are our worries and we will move mountains to help you live life as fully as you can.
Gynecologic Oncology In Pcmc
usually involves removing the tumor and may involve removing:
Service
Womb
Ovaries
Other pelvic organs
Types of operations in gynecologic cancer Treatment in Pcmc, pune
Different types of surgery for gynecologic cancer treatment in pcmc but there are benefit from different types of procedures. Surgery usually involves removing the tumor, but may also involve removing the cervix, uterus, ovaries or other pelvic organs.
Surgical procedures for the gynecological cancers include removal of:
Many tumors as possible, usually in preparation for chemotherapy, to treat several tumors
Uterus and cervix
Uterus, cervix and genitals; the ovaries, fallopian tubes or nearby lymph nodes can also be removed
Removal of both eggs and both fallopian tubes
Omentum – fat pad inside the abdomen
Some or all of the lymph nodes affected by cancer
What are the signs and symptoms of gynecologic Oncology in Pcmc?
There is a genetic mutation (abnormality) called BRCA1 or BRCA2 or associated with Lynch syndrome.
You have breast and uterine or colon cancer.
You have difficulty conceiving. it also Vaginal bleeding (especially if you are after menopause) or vaginal leakage, which is not normal for you.
Pelvic pain or pressure, Abdominal or back pain and also Rupture.
Feeling satiated too soon or having trouble eating.
A change in your bathroom habits, such as a frequent or urgent need to urinate and / or constipation.but there ar
Our other services
Head and neck cancer
breast cancer surgery
Gynecologist cancer surgery
Surgical oncology
Incoming Tags –
gynec cancer surgery in pcmc, pune, india , surgery for gynecologic cancer in pcmc, pune , gynecologic oncology cancer treatment in pcmc, pune , Gynecologic Oncology Cancer Treatment in pcmc, Gynecologic Cancer Surgery in pcmc, Gynecologic Cancer Treatment in pcmc, pune, Gynecologic Cancer Surgery in pcmc, Gynecologic Cancer Surgery in pune, gynecologic treatment in pcmc, pune, gynecologic Oncology in pcmc, gynecologic Oncology in pune
I can answer all your questions before you book an Appointment
Please feel free to reach out